About ORAHS
The EURO Working Group on Operational Research Applied to Health Services (ORAHS) was formed in 1975 as part of a programme for developing special interest groups within the European branch, EURO of the International Federation of Operational research Societies, IFORS.
The group has at present more than 340 members from more than 30 countries, mainly in Europe but also from overseas (USA, Canada, Brazil, ...). Membership is open to persons with an interest in applying systematic, quantitative analysis to planning and management problems in the health area.
The objectives of the group are:
communication of ideas, knowledge and experience concerning the application of OR approaches and methods to problems in the health services area;
cooperation on the form of mutual assistance between members or on joint projects;
inspiration with regard to approaches and attitudes in the field of applied OR.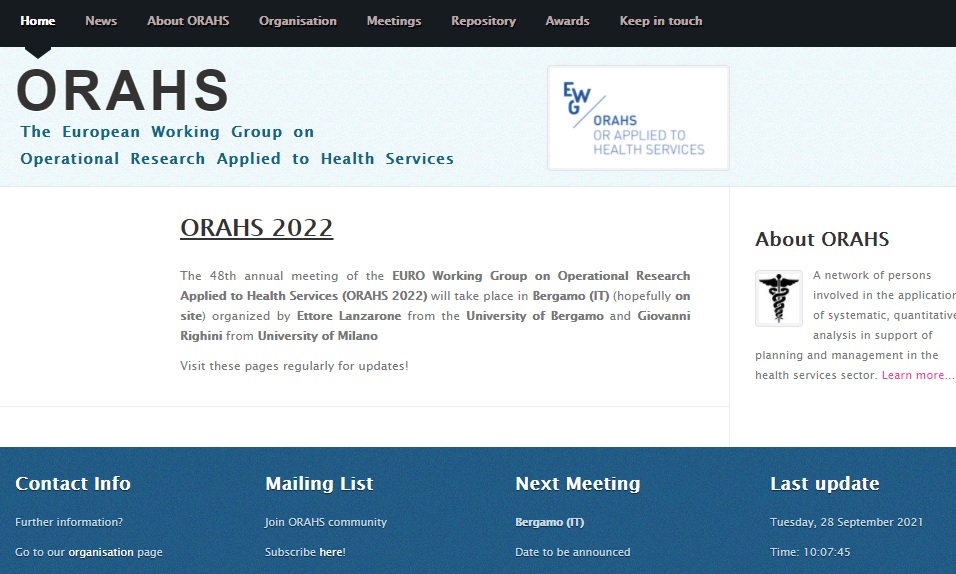 The ORAHS 2022 conference
ORAHS provides a network for researchers involved in the application of systematic and quantitative analysis in support of planning and management in the health services sector. The meeting is open to anyone with a quantitative background and those who have interest in the subject area.
ORAHS 2022 will be the ORAHS in the red zone, focused on the organization and reaction of health systems when confronted with emergency situations like the COVID pandemic.
Hospitals and public authorities: how to react to extreme scenarios rearranging their resources?
Territorial health systems: how and to what extent complement the hospital system to cope with a pandemic?
Clinical practice: decision support for diagnosis and treatments, when fighting against a new virus for the first time.
Several members of the Italian O.R. scientific community did their best to help the national health system in its battle against the COVID-19 pandemic. Organizing ORAHS 2022 just in the heart of the 2020 red zone has a very special meaning. It gives ORAHS deserved resonance in the regional and national health system, in public administration and on the media, raising public awareness about our discipline and its contribution to help decision-makers to save lives, minimize costs and solve problems.
Why the
University of Bergamo
? It is the place of the first master's degree course
Engineering and Management for Health
in Italy, which merges biomedical engineering, management engineering and health care optimization.